Unicef Rights Respecting School
---

In July 2019, we had an assessor from UNICEF visit the school to see and hear about all of the work we have been doing towards becoming a Rights Respecting School. The assessor was very impressed with what they saw, and having achieved the Bronze: Rights Committed award in the Autumn term, we are very pleased to confirm that we have now been awarded the Silver: Rights Aware award!
Achieving Silver: Rights Aware means there is evidence that:
Our school is explicitly embedding the UN Convention on the Rights of the Child in its policy, practice and culture
We are promoting knowledge and understanding of the Convention throughout our school community
We are putting into action and developing the plans outlined on our Action Plan for Silver, which we submitted to achieve our Bronze: Rights Committed
We are beginning to see the positive impact of these actions on children and young people, staff, and on the school's ethos, practice and environment
Children are beginning to see themselves as rights respecting global citizens and advocates for fairness and children's rights, both locally and globally
The report itself can be found at the bottom of this page, and it reads very well. It is testament to the hard work of Mrs Green and her team of UNICEF Ambassadors, but also to the hard work of the whole school community in embracing the project in the way that they have. Without the full support of everybody in the school behind it, we would not have made as much progress as we have. It really does show that we are committed to creating and sustaining an environment where children are respected, their talents are nurtured and they are able to thrive. These values, along with our Christian values, are evident in daily school life and give children the best chance to lead happy, healthy lives and to be responsible, active citizens.
As part of our journey to Silver, we have raised funds to support UNICEF's work in Syria and our latest achievement is to make a huge collection of 371 pairs of unwanted shoes in support of Clarke's Shoe Share project. You can see how well we did in the aerial photo below of all the shoes we collected.
Our young ambassadors have sought out pupil voice to help create a playground charter and ways we can promote children's rights within school. Mr Brompton has shared messages with us in assemblies focusing on particular rights. One of these assemblies about gender equality motivated the children so much that the Castor Ambassadors wrote a letter to the BBC. To our surprise, not only did we get a reply from the BBC but the letter was re-tweeted on Twitter. The children felt very proud that they had been listened to.
UNICEF Fund Raising Achievements:
The amount raised for UNICEF during the Soccer Aid Playground Challenge was £444.65.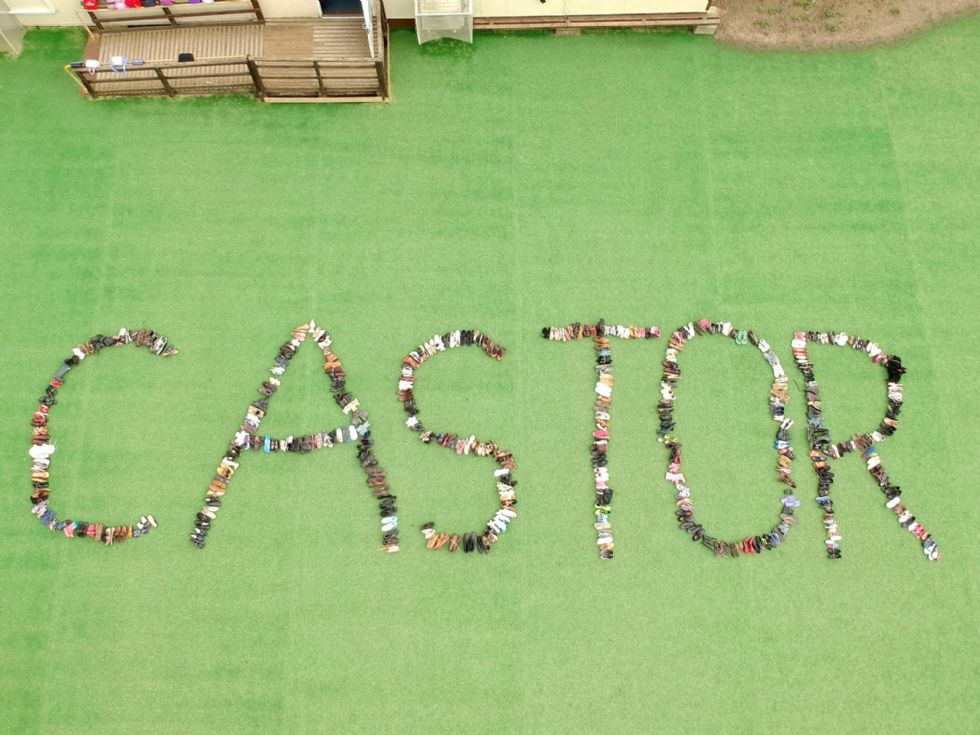 ​